Sandy Tulley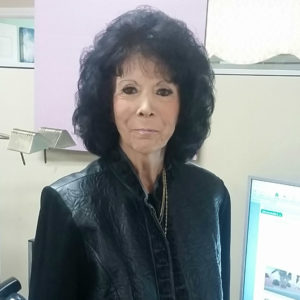 Hi I am Sandra. My husband and I were living in Lancaster, CA, & moved to Pahrump, NV October 2010, & we are very happy here. We like the smaller town feel & the people have been very friendly & helpful. I was previously a flight attendant for Western Airlines form 1969-1985. While working for this company I also went to school to get an Air frame & Power plant license to work on jet aircraft. In 1985 I received my Associates degree in Aviation Maintenance, passed the F.A.A test for my license, & went to work for United Airlines as an aircraft mechanic at L.A Airport. I was a lead mechanic & left United Air. in 1999.
Before working as a mechanic I had an Associates degree in science and general education, but while a mechanic I went to California State NorthRidge College to get another degree, this time I decided to Major in Political Science & minor in Psychology.
While working for United Airlines, My husband & I joined L.A County Reserves. I loved being an officer helping the community & the people. I did undercover work as well, & helped the Unit for auto theft investigation & apprehension. I also assisted in 911 calls & registering paroled inmates.
In 2000 I started working as a Case/Unit Manger at City Correction Center in CA. (The facility has changed their name but had a center here in Pahrump when I moved here in 2010.) I was a supervisor in charge of 2 case managers, 1 counselor and we had a unit that housed over 270 inmates with about 2 or 3 correctional officers assigned to the unit. I decided to leave CA City Correctional Center in 2010 to come here to Pahrump.
I received my first Real-Estate License in CA in 1972 & worked part time with many brokers in Northern & Southern, CA.
I had time off after the move to Pahrump & later took a case Manager position at Nye Communities Coalition- Career Connections in Pahrump. I worked there for just over a year. While off I decided to again go for a real estate license & found a great group of people to work with at Access Realty as a Realtor. It feels good to be back into the field, but now doing it on full-time basis. I look forward to many more years in the Real-Estate profession. Call me today for any of your Real-Estate needs!